08/03/14 19:00
Our latest posters to support a values program in a school. We have a large
range of banners on various values words that can also be used in a citizenship programme or values programme found here (choose the "Health and Values" section)
.
This download requires free registration which can be obtained easily here.









If you require a variation on one of these posters (or an original one)
we have a very cheap design service that can be used here
. Just fill out details and you will receive a poster similar in quality to those illustrated here.
22/08/11 21:24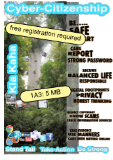 As I have been developing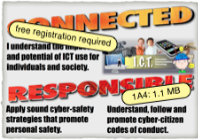 our Cyber Digital Citizenship (including Cyber Safety) programme I have put together these two posters to act as wall printables, to prompt learning that has gone on in the unit. Cyber Citizenship has two important aspects: Safety and Responsibility online. Safety focuses on the habits and skills needed to keep personal details away from misuse and the Responsibility side establishes the values required for behaviour in cyber-space. See also our
banner
on this topic.
12/08/11 22:26

Cyber Citizenship takes us into the values and issues surrounding the use of I.C.T., technology in the context of communications. Cell-phones, telephones, video, web 2.0 tools, Internet, LMS, social media sites and much more are covered. A great values and social-sciences topic to explore for your inquiry. Our latest banner for this makes a great display on your wall. Enjoy!
Requires free registration here.
We will soon have a full inquiry topic based unit covering this theme at our sister site
in2edu.com
.