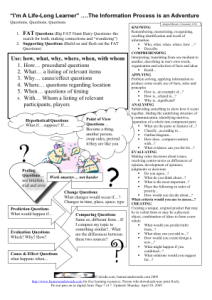 Added a range of information literacy resources, mostly in poster form. Includes an updated version of the questions sheet found on in2edu.com which is a 1 page handout really great for inspiring pupils to better questions.
Three new posters have been added in our posters section:
Key Competencies
is a simplified version in A3 form to help pupils in the middle school area, pick up on their next steps in terms of competencies to pick up. Also added two posters about
SOLO taxonomy
, a way of teaching pupils to think about the topics, questions and learning they are doing and to feedback on the level of their learning. A great idea to help pupils be more constructive when analysing their own success criteria and those of others. Choose the "Thinking and Learning" Section to reveal these new additions.