Learning@School 2010
is a great conference held every year in Rotorua NZ. This year I am hosting a workshop entitled "3 in 1" which is to give an overview of using Keynote, Pages and Scratch in the topic called, "Flight"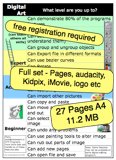 To access these files you need to
register with the site first here.
These are the files that we used:
Files as handed out at conference:
274 MB Zipped
(formats are PDF, Keynote, Scratch, Pages). Pages and Keynote are Apple only programs.
Other Files
ICT Skills Ladders
PDF to help you scaffold skills in programs (ICT Crew or Tech Angel Crew) and track them with a visual rubric.
The first use of our ordering system. A banner for an Australian School that needed a customisation of a leadership banner. We have posted the resource online so that you can download it too.